Saturday 24 April is set to be a treat for mixed martial arts fans.
While UFC 261 is attracting plenty of headlines with its three title fights, KSW 60 is also set to put on a bumper show in Łódź, Poland.
At KSW 60, there will be two title fights, starting with Marian Ziółkowski and Maciej Kazieczko's contest for the promotion's lightweight championship, before heavyweight gold is put on the line between champion Phil De Fries and light heavyweight king Tomasz Narkun in the main event.
This is the second time De Fries and Narkun will square off under the KSW lights as the Pole bids to become a two-division champion once again.
In their first contest, De Fries claimed a one-sided unanimous decision victory against Narkun over five rounds in Łódź at KSW 47 back in March, 2019.
Sunderland native De Fries expertly controlled the fight on the feet, using his reach advantage to nullify Narkun's attempts to exchange strikes with him. Most notably, De Fries floored Narkun with a straight right hand in an early first-round skirmish and continuously found success at range in the striking portions of the fight.
De Fries was also able to control Narkun in the grappling stakes, too. The English heavyweight was able to score the takedowns he needed and stifled Narkun's revered ground game that has seen him pull off a number of high-profile submission victories from his guard.
After 25 minutes was up, Narkun was left bitterly disappointed after suffering his first loss in little less than five years, while De Fries walked away with his second successful heavyweight title defence following what he called "the toughest fight of [his] career" at that time.
Narkun has built his way back up to a rematch with De Fries with consecutive submission wins over Przemysław Mysiala and Ivan Erslan to defend his KSW light heavyweight gold. Those names are added to a list of combatants who have failed to beat him since he won his belt from UFC veteran Goran Reljic in 2015, including Mamed Khalidov twice, Marcin Wójcik and ex-UFC and Pride FC standout Rameau Thierry Sokoudjou.
"Zyrafa" is on the comeback trail and will be determined to make right for what went wrong in his first bout with De Fries two years earlier.
https://twitter.com/AlanMurphyMMA/status/1382069614176317442
Equally, De Fries is hell-bent on continuing on as the baddest man on the KSW roster with his heavyweight belt in tow, as proven by the kind of training partners he has hooked up with over the past few weeks; including UFC mainstays and up-and-comers Darren Till, Paul Craig and Tom Aspinall.
De Fries' time in KSW started off with a bang, defeating Polish giant Michał Andryszak by first-round TKO to win the promotion's heavyweight championship on his debut.
That helped propel what has been a remarkable career turnaround. De Fries, who revealed the extent of his battles with anxiety to us in a 2018 interview, has looked near unstoppable as KSW heavyweight champion as his new-found self-belief has risen in tandem with his impressive performances inside the cage.
Since that Andryszak win, De Fries has defeated Narkun, former KSW champion Karol Bedorf, Luis Henrique and Michał Kita en route to becoming the most dominant heavyweight the promotion has ever had on its roster, holding the KSW heavyweight championship record for the most title defences.
De Fries is brimming with confidence and appears determined to successfully defend his belt against Narkun for a second time but leave a more lasting impression on his opponent this time around.
"It's going to be very similar to the last fight," De Fries predicted in an interview with Cageside Press. "But I'm going to stop him this time."
What else to watch out for at KSW 60: De Fries vs. Narkun
As mentioned above, there is a second title fight on the card. Newly-crowned champion Marian Ziółkowski will face Maciej Kazieczko in the co-main event to determine the fate of the KSW 155-pound gold.
Ziółkowski capped off 2020 with a fourth-round TKO victory over Roman Szymański at KSW 57 for the belt left vacated by the UFC-bound Mateusz Gamrot.
Meanwhile, Kazieczko, who has essentially grown up in the KSW cage, with seven of his eight professional MMA bouts taking place under the KSW banner, will be fighting for a belt for the first time. The 27-year-old is riding a four-fight win streak going into this fight.
Further down the card, you will get the chance to see former professional boxer Izu Ugonoh compete under mixed martial arts rules for the second time. After defeating Quentin Domingos on his MMA – and KSW – debut in 2020, he will face Marek Samociuk on Saturday night.
See below for the full fight card.
Full KSW 60: De Fries vs. Narkun fight card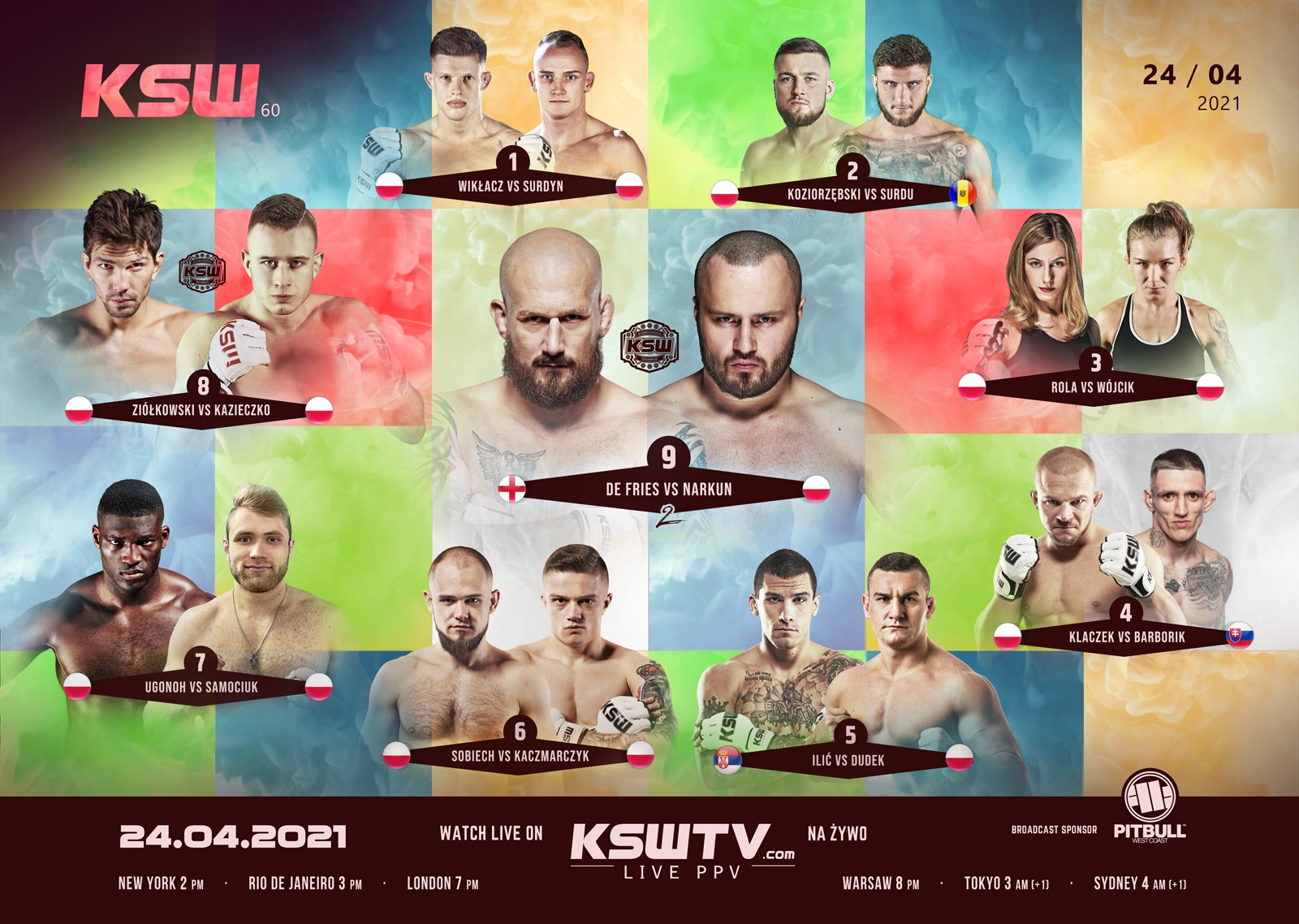 KSW Heavyweight Championship: Phil De Fries (c) vs. Tomasz Narkun
KSW Lightweight Championship: Marian Ziółkowski (c) vs. Maciej Kazieczko
Heavyweight: Marek Samociuk vs. Izu Ugonoh
Featherweight: Michał Sobiech vs. Patryk Kaczmarczyk
Middleweight: Aleksandar Ilić vs. Adrian Dudek
Featherweight: Vojto Barborík vs. Krzysztof Klaczek
Women's Strawweight: Aleksandra Rola vs. Karolina Wójcik
Catchweight: Ion Surdu vs. Kacper Koziorzębski
Bantamweight: Patryk Surdyn vs. Jakub Wikłacz
How to watch KSW 60: De Fries vs. Narkun
As always, KSW 60 will be broadcast on internet pay-per-view, available on either KSW TV or Fite TV.
Check out the below for start times:
Poland (CET): 8:00 PM
United Kingdom & Ireland (BST & IST): 7:00 PM
USA (ET): 2:00 PM
USA (PT): 11:00 AM