Cage Warriors is back and with a bang.
Three events displaying the top rising talent the European MMA scene has to offer over three nights, Cage Warriors is the first MMA promotion to put on a government-approved in the UK amid the ongoing COVID-19 coronavirus pandemic.
Sponsored by sports management agency Envisage MMA, Cage Warriors kick off The Trilogy run with CW 114 tonight behind closed doors in Manchester's BEC Arena.
We'll take a look at CW 114 and share the information you need to watch live later this evening. Also, stay tuned to catch the previews and viewing information for the next two upcoming events of The Trilogy, CW 115 and CW 116.
Cage Warriors 114 Main Event – Samir Faiddine vs. Luke Shanks
Like every other fighter on the CW 114 card, Cage Warriors flyweight champion Samir Faiddine and title challenger Luke Shanks made weight on Wednesday so they can lock horns the following night.
This fight will see Faiddine defend his Cage Warriors 125-pound title for the first time after shocking the world with his TKO victory against Sam Creasey for the vacant flyweight title in June last year.
The Frenchman will be facing an in-form Shanks on the night, who is riding a three-fight winning streak after knocking out Pietro Menga last September at Cage Warriors 107.
Faiddine only has one fight under the Cage Warriors banner to his credit and that saw him earn flyweight gold in the promotion. Can he make it two wins from two?
Cage Warriors 114 Undercard fight to watch: Jake Hadley vs. Shaj Haque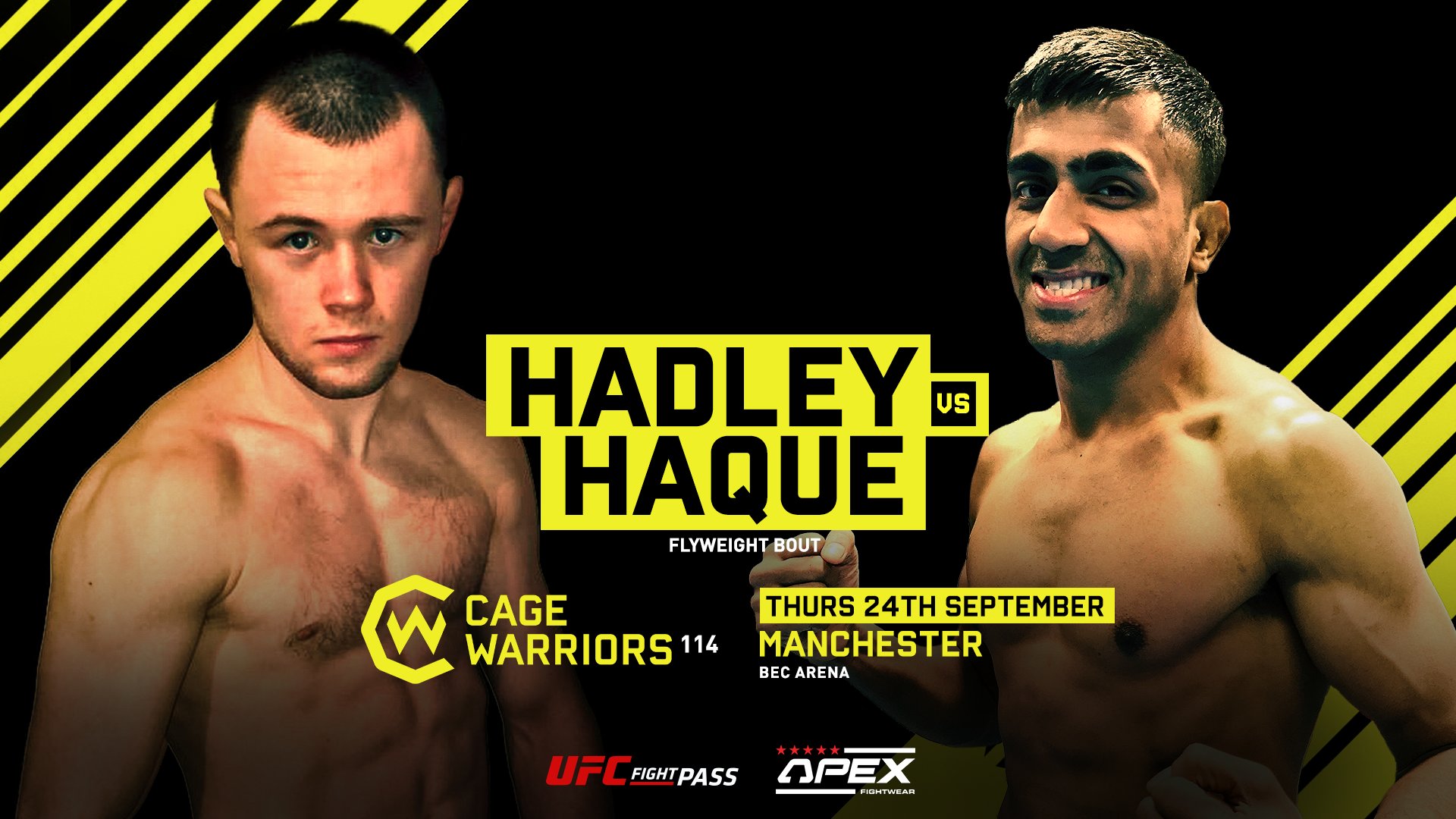 There are plenty of fun fights on the Cage Warriors 114 undercard, but on a night of flyweight featurettes it's the bout between Jake Hadley and Shaj Haque which captures the attention.
Hailing from the Midlands, Hadley is considered one of the UK's finest fighting prospects. Hadley boasts an unblemished 5-0 record and the 24-year-old has finished four of those five victories.
In Haque, Hadley is perhaps facing his toughest test to date.
An eight-year veteran of the sport, Haque has accrued 10 wins against four losses. That record includes a big victory over Bellator and Sengoku veteran Ronnie Mann.
Haque has never been finished in his 14 outings and has the experience to trouble any rising prospect. However, given Hadley's penchant for both submission and knockout finishes in his short career so far, this fight will make for intriguing viewing.
The full Cage Warriors 114 full fight card
Cage Warriors Flyweight championship: Samir Faiddine (c) vs Luke Shanks
Flyweight: Jake Hadley vs Shaj Haque
Welterweight: Madars Fleminas vs Mateusz Figlak
Welterweight: Aaron Khalid vs Mick Stanton
Flyweight: Adam Amarasinghe vs Coner Hignett
Pro Prelims card
Lightweight: John Mitchell vs Alan Brykalski
Middleweight: George Smith vs Matt Bonner
Bantamweight: Jack Maguire vs Ciaran Mulholland
Lightweight: Oban Elliott vs Michal Figlak
* Fight card subject to change and is accurate at the time of writing.
How to watch Cage Warriors 114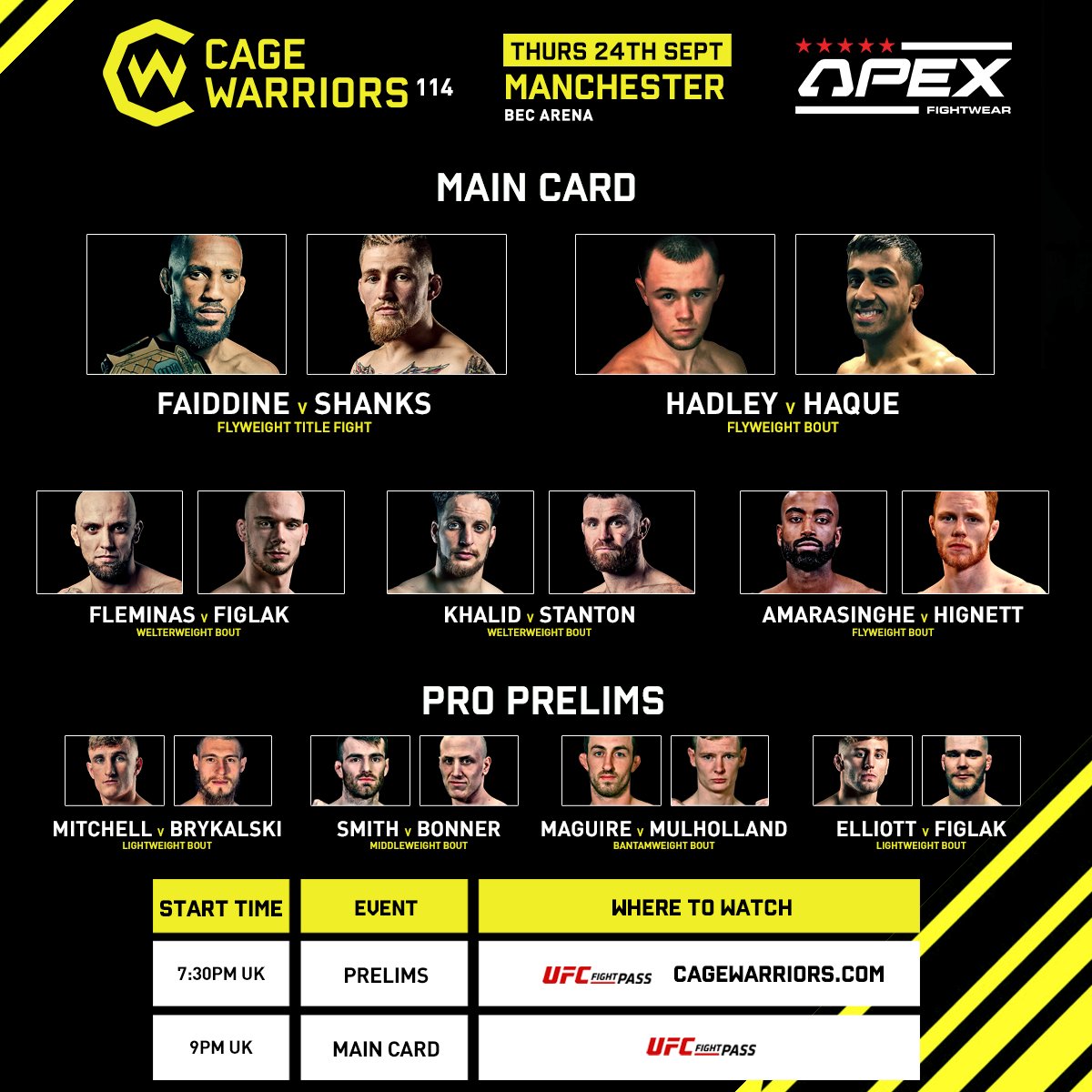 If you are living in the UK, Ireland, Australia, New Zealand, Russia or anywhere in the Americas, you can watch this nine fight card in its entirety on UFC Fight Pass. Otherwise, the preliminary fights are also broadcast on Cagewarriors.com.
The preliminary fights begin at 7:30pm BST (British Summer Time) and the main card begins at 9:00pm BST.
If you don't live in those aforementioned countries or regions, Cage Warriors have kindly provided a list of their international broadcast partners.
Find out how you can watch below:
Europe
France: RMC Sport
Italy, Belgium: Eleven Sports Eleven Sports Network
Denmark, Finland, Norway, Sweden: Viaplay
Spain: Gol TV
Turkey: S Sports
Cyprus: CYTA
Bulgaria: Max Sport
Serbia, Montenegro, Slovenia, Croatia, Bosnia and Macedonia: SportKlub
Eurasia and Ukraine: Setanta
British Forces Overseas: BFBS
Asia
Vietnam: K+
Myanmar: C+
India, Pakistan, Sri Lanka: D Sports
Indonesia: Mola TV
Africa
Sub Saharan Africa: StarTimes
About Envisage MMA
Envisage MMA is sponsoring all three of Cage Warriors' The Trilogy events, starting with CW 114. Envisage MMA is a one-stop shop for professional MMA athletes, while also providing full management and sponsorship services to mixed martial artists.
Click here to learn more about Envisage MMA.