Cage Warriors is well and truly back up and running!
Last night, we saw event one of their return series of three fight nights entitled "The Trilogy." You can read all about what went down at CW 114 here.
Cage Warriors is the first MMA promotion to put on a government-approved in the UK amid the ongoing COVID-19 coronavirus pandemic.
With all three events sponsored by sports management agency and athlete performance specialists Envisage MMA, night two of Cage Warriors' The Trilogy run takes place tonight with CW 115 being held behind closed doors at Manchester's BEC Arena.
We'll take a look at CW 115 and share the information you need to watch live later this evening. Also, stay tuned to catch the previews and viewing information for the last event of The Trilogy, CW 116, which will come out tomorrow morning.
Cage Warriors 115 Main Event – Jack Cartwright vs Gerardo Fanny
Last night was a showcase of flyweights, but it's the Cage Warriors bantamweight title that's on the line at CW 115.
Champion Jack Cartwright will be putting his gold at 135 pounds on the line against Gerardo Fanny.
Bolton's Cartwright is among the UK's most promising MMA prospects after taking his spotless 4-0 amateur record to the professional ranks and go 8-0 – seven of those wins coming by either submission or knockout.
The English bantamweight is a great striker with a penchant for spectacular submissions and looks right at home as Cage Warriors champion.
However, Curacao-born Dutch opponent Fanny could prove an interesting test for the unbeaten Cartwright.
Fanny boasts a pro record of 9-1, seven wins coming by knockout or submission, and is equally adept at fighting on the feet and down on the floor like his counterpart Cartwright.
This will be Fanny's first outing in the Cage Warriors cage and he will be hoping to upset local lad Cartwright in Manchester even if there isn't anyone in attendance.
Cartwright vs. Fanny is a must-watch for any self-respecting MMA fan.
Cage Warriors 115 Undercard fight to watch: Jack Grant vs. Yassine Belhadj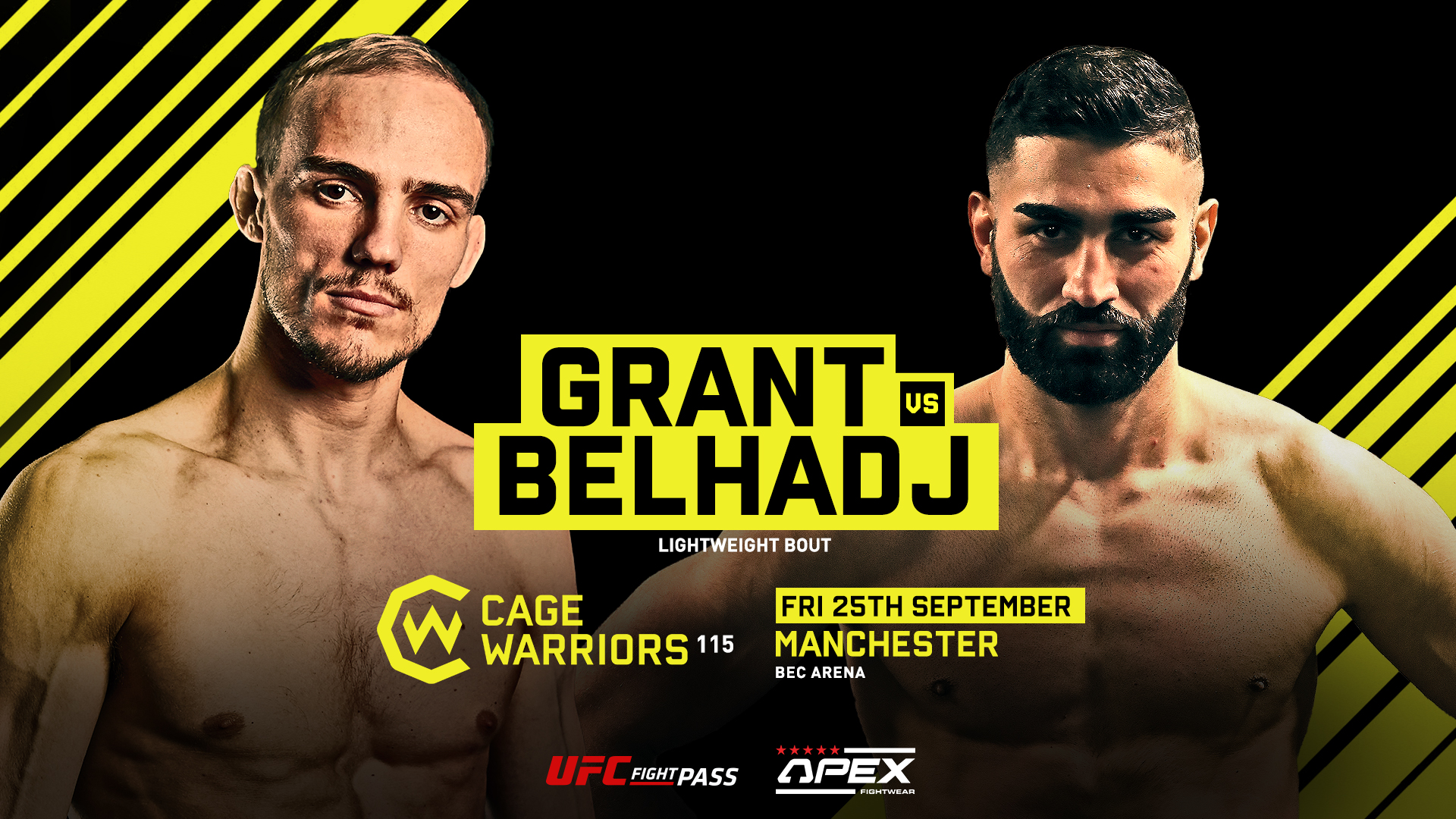 There are plenty of fun fights on the Cage Warriors 115 undercard, including the middleweight scrap pitting UFC veteran Craig White against James Webb, but it's the lightweight contest between Jack Grant and Yassine Belhadj which captures my attention.
With a 15-5 record and 14 of those victories coming by way of finish, Grant is the epitome of a fighter and he will enter the cage at CW 115 with a chip on his shoulder after his TKO loss to Jai Herbert in June, 2019.
Grant has notched up big wins on the regional circuit in both Cage Warriors and BAMMA but will be taking on a game Belhadj tonight.
Hailing out of Paris, France Belhadj will be making his Cage Warriors debut at CW 115. Like Grant, Belhadj (6-2) favours making a quick night of his fights over going to a decision. "Crazy Legs" has five finish wins, three by KO and two by submission.
The contest between these to European lightweights should make for intriguing viewing.
The full Cage Warriors 115 full fight card
Cage Warriors Bantamweight championship: Jack Cartwright (c) vs Gerardo Fanny
Middleweight: James Webb vs Craig White
Lightweight: Jack Grant vs Yassine Belhadj
Bantamweight: Weslley Maia vs Adam Wilson
Welterweight: Ian Garry vs George McManus
* Fight card subject to change and is accurate at the time of writing.
How to watch Cage Warriors 115 on TV and stream online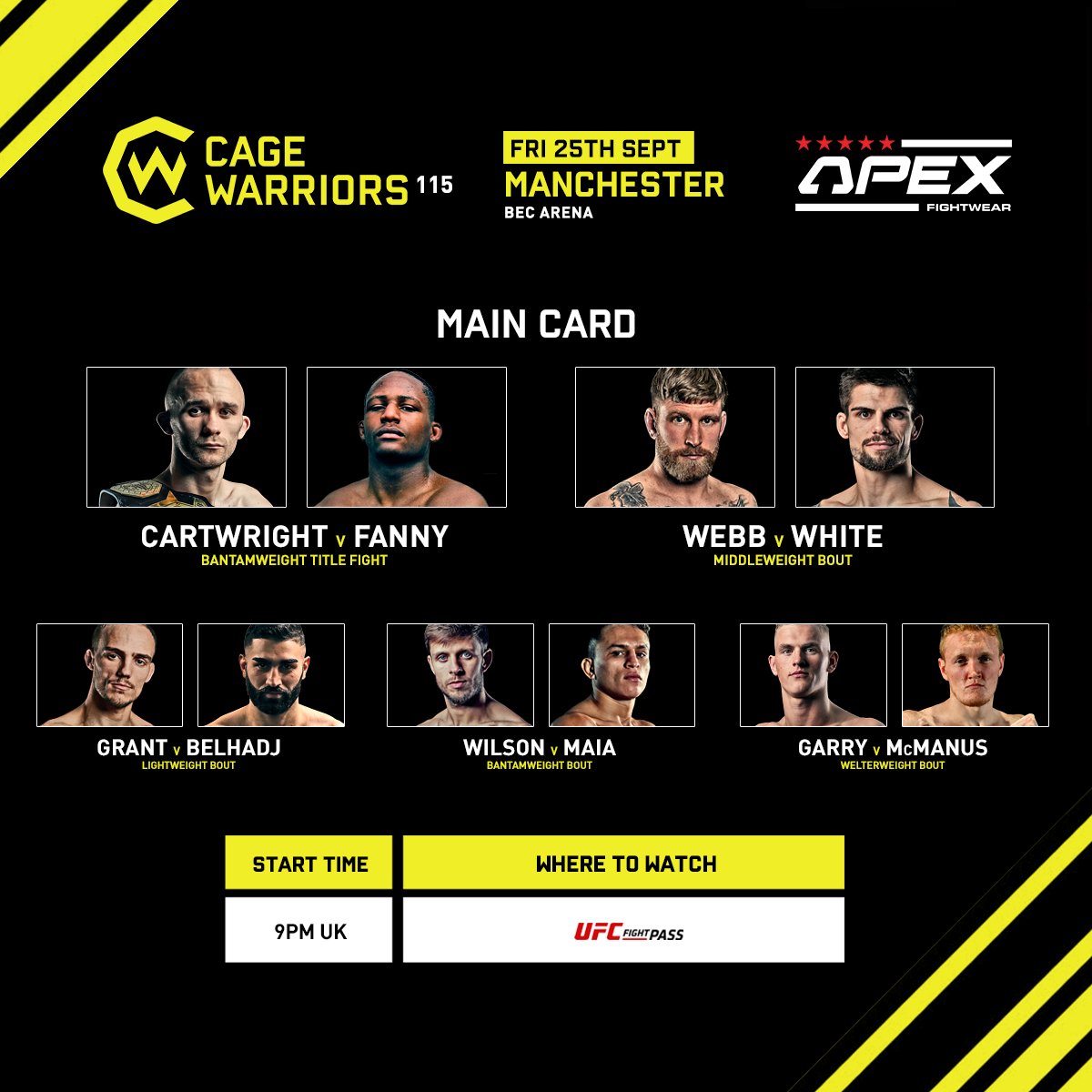 If you are living in the UK, Ireland, Australia, New Zealand, Russia or anywhere in the Americas, you can watch the fight card in its entirety on UFC Fight Pass. Otherwise, the preliminary fights are also broadcast on Cagewarriors.com.
Due to some fallouts from the undercard, it's just a main card to watch tonight. Cage Warriors 115 starts at 9:00pm BST.
If you don't live in those aforementioned countries or regions, Cage Warriors have kindly provided a list of their international broadcast partners.
Find out how you can watch below:
Europe
France: RMC Sport
Italy, Belgium: Eleven Sports Eleven Sports Network
Denmark, Finland, Norway, Sweden: Viaplay
Spain: Gol TV
Turkey: S Sports
Cyprus: CYTA
Bulgaria: Max Sport
Serbia, Montenegro, Slovenia, Croatia, Bosnia and Macedonia: SportKlub
Eurasia and Ukraine: Setanta
British Forces Overseas: BFBS
Asia
Vietnam: K+
Myanmar: C+
India, Pakistan, Sri Lanka: D Sports
Indonesia: Mola TV
Africa
Sub Saharan Africa: StarTimes
About Envisage MMA
Envisage MMA is sponsoring all three of Cage Warriors' The Trilogy events. Envisage MMA is a one-stop shop for professional MMA athletes, while also providing full management and sponsorship services to mixed martial artists.
Click here to learn more about Envisage MMA.