Two events in, Cage Warriors has come back with a bang ahead of CW 116 rounding off their series, "The Trilogy." You can read all about what went down at CW 114 here and CW 115 here.
Cage Warriors is the first MMA promotion to put on a government-approved in the UK amid the ongoing COVID-19 coronavirus pandemic.
With all three events sponsored by sports management agency and athlete performance specialists Envisage MMA, night three of Cage Warriors' The Trilogy run takes place tonight with CW 116 being held behind closed doors at Manchester's BEC Arena.
We'll take a look at CW 116 and share the information you need to watch live later this evening. Also, stay tuned to catch the previews and viewing information for the last event of The Trilogy, CW 116, which will come out tomorrow morning.
Cage Warriors 116 Main Event – Mason Jones vs Adam Proctor
The main event of CW 116 – and arguably the headline attraction of their three nights of fights in The Trilogy – sees Cage Warriors lightweight champion Mason Jones take on top 170-pound contender Adam Proctor for the promotion's vacant welterweight championship.
The pride of Wales, Jones is on the warpath to become the third two-weight champion, joining Conor McGregor and Dan Hardy in that exclusive club.
Jones boasts an unbeaten record of 9-0 and won his 155-pound title last time he appeared in the cage against Northern Ireland's Joe McColgan in March at Cage Warriors 113.
"The Dragon" has six stoppages on his growing resume and that McColgan victory showed the hype he had built behind his name was more than warranted. However. the 25-year-old has a test on his hands with South Shields native Adam Proctor.
Proctor has a record of 12-1 and is unbeaten in his last seven fights, posting victories in Cage Warriors, ACB and BAMMA.
The 24-year-old is very capable on the ground, with five of his 12 wins coming by submission. He also has that handy knack to find ways to win if the fight reaches the judges.
Not only is this a main event-level bout to cap off a memorable night of three nights, but it's also one of the most interesting stylistic match-ups across The Trilogy. Make sure you tune in.
Cage Warriors 116 Undercard fight to watch: Paul Hughes vs Aidan Stephen
There are plenty of fun fights on the Cage Warriors 116 undercard, including the featherweight scrap pitting Steve Aimable against Jordan Vucenic, but it's another bout at 145 pounds which catches the eye.
The co-main event – the appetiser to a tantalising headline fight – sees Ireland take on Scotland when Paul Hughes squares off against Aidan Stephen.
Hughes is considered one of the Emerald Isle's top prospects and is unbeaten in his five-fight career so far. With three of those wins coming by knockout and the remaining two by submission, Hughes clearly likes to get in, get out and get paid.
Stephen will provide the sternest test to Hughes' budding MMA career to date and is most definitely eager to put a halt to the Hughes hype train.
The Scot has a record of 7-2 and also has five finishes by either knockout or submission. Let's see whose will to fight shines more on Saturday night.
The full Cage Warriors 116 full fight card
Cage Warriors welterweight championship: Mason Jones vs. Adam Proctor
Featherweight: Paul Hughes vs. Aidan Stephen
Lightweight: Kieran Lister vs. Tom Mearns
Flyweight: Sam Creasey vs. Nicolas Leblond
Featherweight: Steve Aimable vs. Jordan Vucenic
Prelimary card
Middleweight: Christian Duncan vs. Kyle McLurkin
Catchweight: Leon Hill vs. Joshua Onwordi
* Fight card subject to change and is accurate at the time of writing.
How to watch Cage Warriors 116 on TV and stream online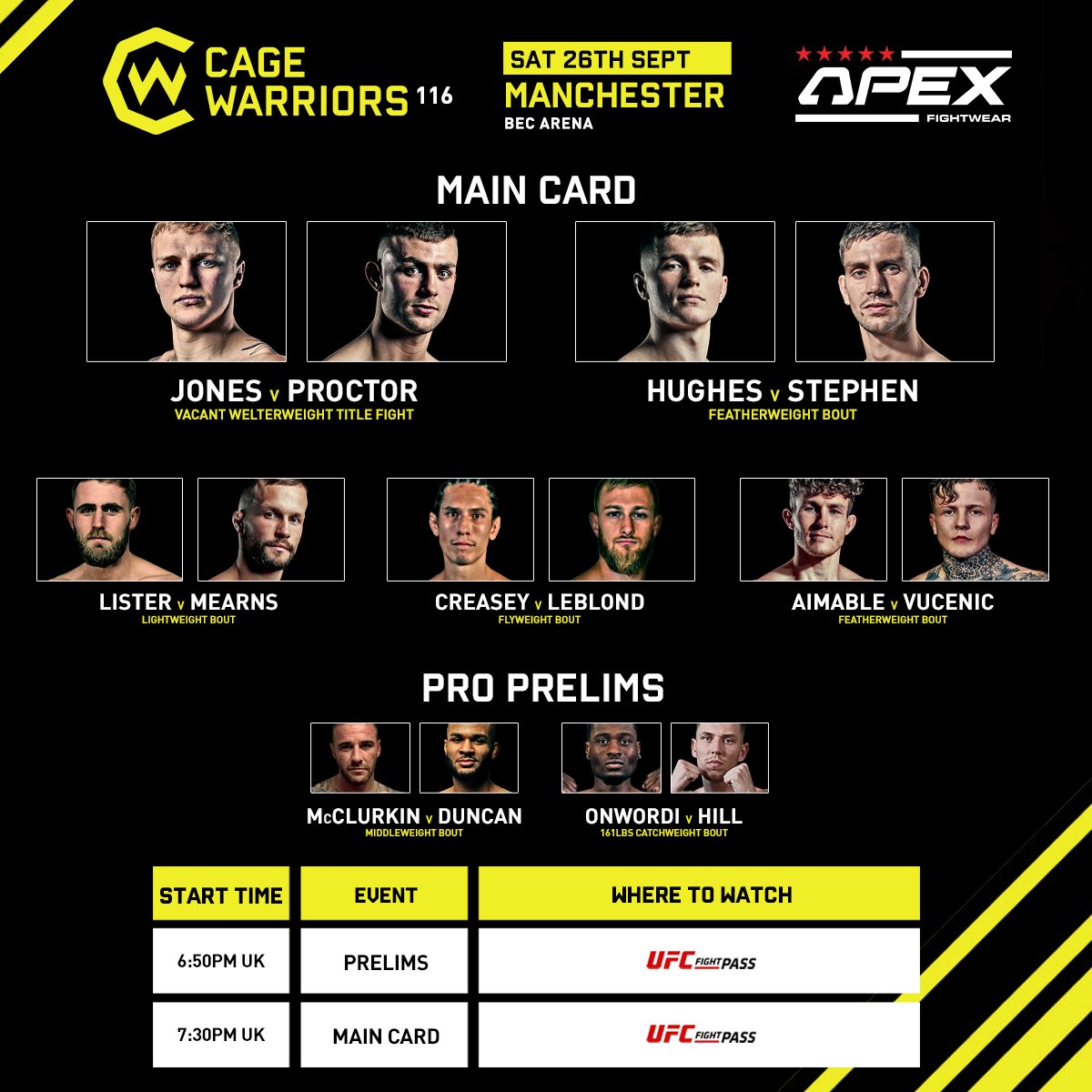 If you are living in the UK, Ireland, Australia, New Zealand, Russia or anywhere in the Americas, you can watch Cage Warriors 116 in its entirety on UFC Fight Pass. Otherwise, the preliminary fights are also broadcast on Cagewarriors.com.
The preliminary fights begin at 6:50pm BST (British Summer Time) and the main card begins at 7:30pm BST.
If you don't live in those aforementioned countries or regions, Cage Warriors have kindly provided a list of their international broadcast partners.
Find out how you can watch below:
Europe
France: RMC Sport
Italy, Belgium: Eleven Sports Eleven Sports Network
Denmark, Finland, Norway, Sweden: Viaplay
Spain: Gol TV
Turkey: S Sports
Cyprus: CYTA
Bulgaria: Max Sport
Serbia, Montenegro, Slovenia, Croatia, Bosnia and Macedonia: SportKlub
Eurasia and Ukraine: Setanta
British Forces Overseas: BFBS
Asia
Vietnam: K+
Myanmar: C+
India, Pakistan, Sri Lanka: D Sports
Indonesia: Mola TV
Africa
Sub Saharan Africa: StarTimes
About Envisage MMA
Envisage MMA is sponsoring all three of Cage Warriors' The Trilogy events. Envisage MMA is a one-stop shop for professional MMA athletes, while also providing full management and sponsorship services to mixed martial artists.
Click here to learn more about Envisage MMA.